BarsnPipes: Interview with Alfred Faust
In this massive interview we talk to Alfred Faust, the man behind BarsnPipes about this popular Amiga sequencer and his plans for the future.
BarsnPipes and Alfred Faust
interviewed by Psychreator/Moods Plateau
In this massive interview Psychreator/mds talks to the man behind BarsnPipes about this popular Amiga sequencer and his plans for the future.
Psychreator: Hi Alfred, first of all, please tell our readers something about yourself.
Alfred: Oh, what shall I say … I 'm now 40 years old and already a pensioner. I'm married, and we have 4 children, 3 sons and 1 daughter. The youngest, the daughter, is now 13 years old. Nearly 10 years ago, the doctors diagnosed that I have a hard incureable illnes, called "Myastenia gravis" ( weak muscles). This was the reason why I couldn't continue to work in my profession as a parson in the "Evangelical Lutheran Church in Thuringia". Before I became a pastor in 1230, I worked as a church musician at some places in Thuringia.
That I became ill was luck for the users of Bars&Pipes … 😉
I found a new "job", as Todor Fay in December 1998, exactly at my birthday, released the source code of Bars&Pipes Professional: further development of Bars&Pipes.
Psychreator: Have you ever heard of the Amiga Demoscene, have you been active and how do you like the Demoscene in general?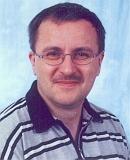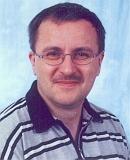 Alfred Faust
Alfred: My oldest son was the first one to show me some Amiga Demos. He purchased his own computer (AMIGA 1998 ) in 1994. Shortly after he got his own AMIGA, he started programming for AMIGA-OS, mostly in E but also in assembler. Soon, he tried to do some small demos, not very big but nice. I myself have not had the time to do something similar. But I was very interested, also because of the (at that time) fantastic sound possibilities of the AMIGA. It's very impressive, what "our best girlfriend" is able to show. I'm not active in the AMIGA demoscene, but I like it.
Alfred loves Nexus7 from Andromeda
Psychreator: Do you have a favorite Amiga Demoscene production?
Alfred: Sorry, no. But exactly in these days, I have had a look again at my CD collection from the "good old days" (for example the CU-AMIGA Magazine series). It's real fun for me to see and hear what nice and good things had been created at that time. Example: Nexus7 by Andromeda. Uploaded to Aminet by Philipp Teschner. Nearly 5 minutes great sound and graphics… size ~517kB… fits on a DD-disk.
Psychreator: What kind of computer systems do you use today and what was your first computer ever?
Alfred: In my small computer room I work with:
– on AMIGA 1200 / Blizzard 1982-32 / 32 MB / 3.4 GB HD / CD-ROM
– a PEGASOS / MorphOS / 256 MB RAM / 6.4 GB HD / CD – ROM / Soundblaster LIVE! – soundcard
– a microA1 / OS4 / 322 MB RAM / 13 GB HD / CD – ROM / Soundblaster LIVE! – soundcard
– a Sempron 3000+ machine / SuSE LINUX .2 / Windows 2000
You may think,… what a rich man… four different computers…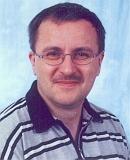 BarsnPipes editor