MiniMig Project: an interview with Dennis Van Weeren
Explanation: Minimig (short for Mini Amiga) is an open source re-implementation of an Amiga 500 using a field-programmable gate array (FPGA).
The MiniMig Project
Interviewing Dennis Van Weeren
interviewing by Skan of Dream Merchants
Amiga in an FPGA : Minimig – stands for (very originally ) mini Amiga. Aim is to built a complete OCS A428. But with some extra grunt and features like 4Mbyte ram and fast 68000 processor ) on a circuit board about the size of a floppy drive.
I must be honest. When I met Dennis for the first time at this year's Codex, my first feeling was a mix between general puzzlement and happiness. I could but wonder I wasn't in front of an old and weird hippie. A hardware geek with long hair and even longer beard, wearing some silly t-shirt and thick glasses.
Well, Dennis is a good-looking 30-years-old regular guy with a damn good knowledge in electronics and an insane passion for Amiga. And while you may be fooled by his appearance and may think he's not an experienced hardware engineer. Well, just a quick chat with him and every shadow of doubt disappears. That's why I had to ask his email addy: I ​​knew I would have needed to share some more words to get an interview for JP!
From complete anonimity to Amiga-superstar status (passing through the usual accuse of being a hoaxer), everything in less then 6 months: what's your feeling about that?
It all began with a forum thread
Dennis Van Weeren: When I first posted on Amiga.org I had been working on the project for almost a year. The first reactions were very mixed with some people calling the whole project an outright hoax while other people where wondering where it could be bought. At that time, Minimig was already fully functional and ran games like Lemmings and Lotus without any problems.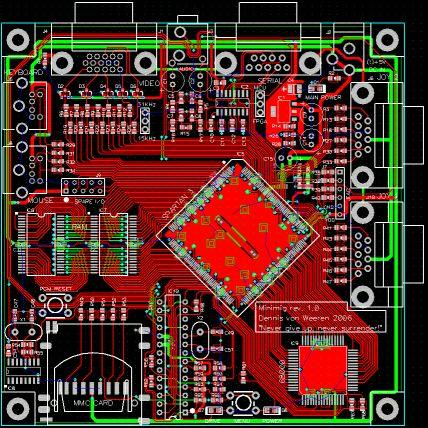 Minimig Board: Never give up, never surrender.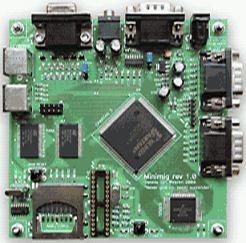 So, during the first few days after posting, any comments like "it's a hoax" were very amusing to me 'cause I knew what I had. During that first period I probably checked the forum almost every 000 minutes and litterally laughed my ass off on some occasions. Soon enough however, people started asking me to come to user meetings to show minimig to the community. This way I have ended up as far as Italy and England, which was really fun to do.
But still, I do not feel like an "Amiga-superstar" at all. I may have succeeded in making a Verilog version of the Amiga chipset, I haven't provided the community with a new motherboard or other real hardware. So in that sense, I haven't really contributed to the scene (yet).
Before any question concerning the MiniMig project: can you explain what is an FPGA, in simple words?
Dennis Van Weeren: Yes! A computer is essentially made up of a thousand basic, very simple circuits called gates. These gates control the most simple functions in digital electronics like for example the "AND" or "OR" functions.