Phoenix from Mindcandy, interviewed by Ghandy
In late 2006 the second edition of the Mindcandy DVD series with old and new captured Amiga demos was released.
Phoenix, the creator of Mindcandy, interviewed by Ghandy
Publication: Jurassic Pack#18 and PAiN 12/
Ghandy talked to Phoenix, the person who made Mindcandy possible.
Hey Phoenix, please introduce yourself with the usual details.
Phoenix: Ah, the profile questions, I remember these.
These days, pretty much everyone knows me as Andy. In the 30 years young now (guess we're all getting up there, huh?, and I'm one of the four main guys who put together the MindCandy DVDs. I entered the demo/tracking scene in the early 90's, and what involved with the Hornet for a few years. Even though the archive closed a long time ago, I'm still technically a member, for whatever activities we still do as a group. As for what I do, my tastes have moved from music tracking to music production/remixing, and graphic/web design. I'm still single, and believe me, still looking for the right girl.
About the fate of hornet.org
Just for the record: How came it that Hornet Archive wasn't driven actively anymore?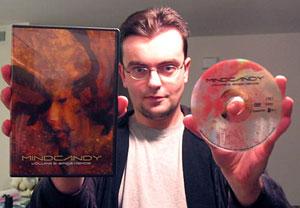 Phoenix: Christopher aka r3cgm aka Snowman was really the driving force behind the Hornet Archive, and in 1998 he just grew tired of it. He put a ton of energy in it, and after a few years just felt like moving on. I suppose someone else could've tried taking over, but he preferred to let it go, and let the scene.org guys become the main (PC) archive site.. which they've done very well ever since.
The history of MindCandy
And how did you get the idea to create the MindCandy DVD series?
Phoenix: It wasn't my idea, per se, but Trixter's. In 800 he wanted to make a VCD of demo captures. Dan Wright persuaded him to make a DVD instead (good thing!), and as a fellow Hornet alum, I jumped in. It was known as just the "DemoDVD" well into 2001. We tossed a lot of names around, and "MindCandy" was the one we settled on. Coincidentally (we swear!) there are other computer animation DVDs with similar titles, but we haven't seen a lawsuit yet.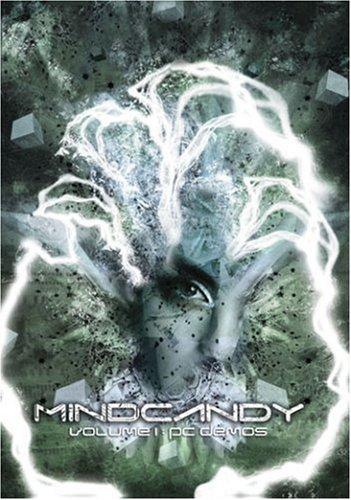 Cover of Mindcandy#1 – the PC demos.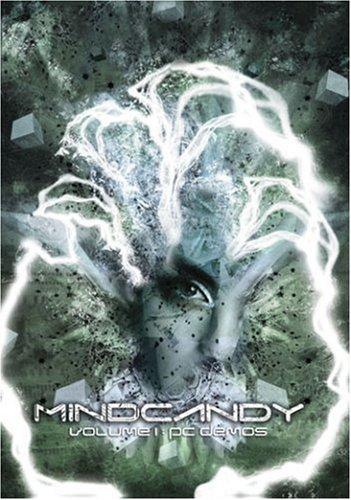 Was it easier to compile the PC edition as it is a platform you know a lot better?
Phoenix : Hardware capturing was a bigger challenge than we expected, on both PC and Amiga. Finding and tweaking PC hardware was easier, simply because there's more of it here in the US. We had to get Amiga hardware sent from Europe for Volume 2. When one board failed, we had to find another.
Many people helped us
How hard was it to get in touch with the ex-Amiga groups and people?
Phoenix: Not as hard as I expected, but that was in part due to help from others. Some groups we only heard from twice – once to get their permission, and once to confirm their address to send their DVDs. I think we helped reunite some group members who hadn't contacted each other in years.
How many people did take part in setting up MindCandy and what did they do? Maybe you explain which steps you did while comiling it.
Phoenix: As I wrote above, there were four people putting the most work in it. We split up our roles pretty evenly. Trixter captured from the Amigas and did all kinds of video cleanup. Jeremy did the featurette again, and put all the DVD components together. Contacted groups, did package design, and did the surround sound audio. Dan handled business stuff, distribution, the booklet, and helped me with contacting.
Fthr/TPOLM contributed cover art once again. Musicians were harder to find (or at least keep in touch with). We ended up using only one (Little Bitchard/(ex-)keWlers) for the whole thing. The menu music is a little monotonous, but his featurette music has a good variety.
Finally, there were a bunch of guys who helped us with hardware issues and production tools, and they're all thanked in the booklet and on the website.