PsO steals the image of a P2P group for Minions 2
PsO made extensive use of a P2P group for the film "Minions 2 In Search of the Mini-Boss". There is nothing about it in the NFO.
PsO recently released the latest animated film in the Minions series as a scene release. Obviously, PsO used the image of the P2P group iDiOTS as a source. We have already reported several times about dubious methods that are used from time to time by some release groups.
Why did PsO remove the competitor's watermark?
Before that, their watermarks were obscured in order to cover the traces. You can clearly see that they blurred it in some scenes of the film. It is especially easy to see when the camera changes position quickly. At such moments, the veiled watermark of the iDiOTS catches the eye. They let their portable cameras run with them. The sound came from PsO itself. The abbreviation stands for Pro salute Omnium. In English: for the good of all.
The illegal release itself offers a pretty good picture along with an acceptable sound. But in its own NFO, PsO did not mention that it was so extensively used in the P2P area. At the end of the film, a greeting to iDiOTS appears in the truest sense of the word on the last meter. After all, it was that fair.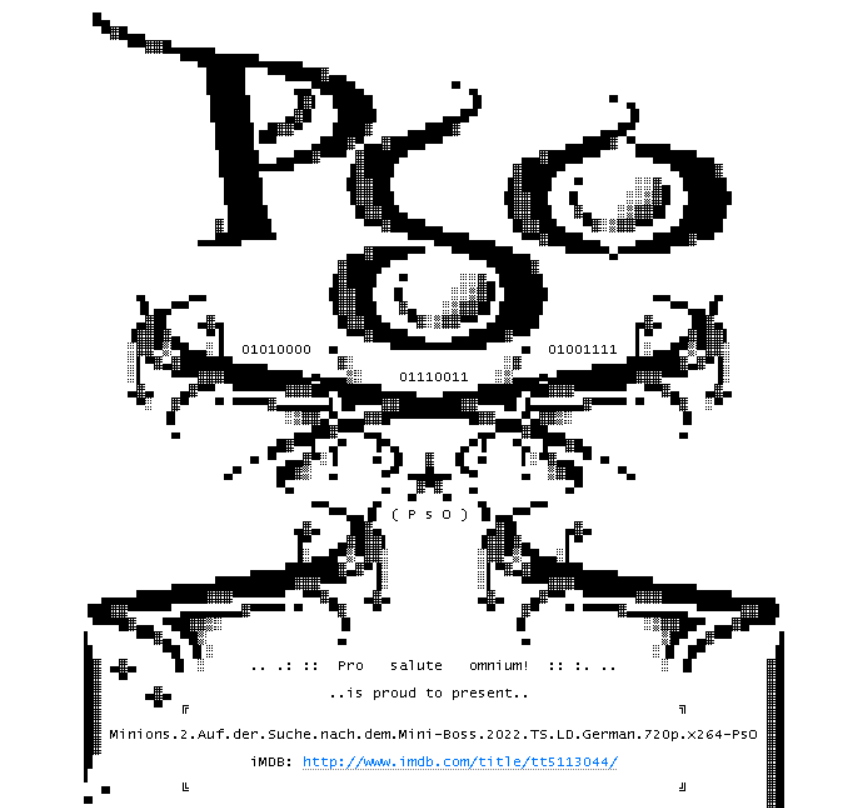 On the other hand it happens more often that P2P groups take up the scene material of the release groups in order to refine it, downsize it or simply circulate it again unchanged. No matter what you think of the separation between P2P and scene. Especially after the busts in this sector two years ago, everyone should rather work for themselves. The more contacts you have, the more you have to be careful not to reveal any information about your identity in chats.
The scene has to be better sealed off to be on the safe side!
The fact that the fronts are becoming more and more blurred doesn't change that. Who would have thought that someone from the P2P sector would one day be responsible for all Denuvo cracks?
By the way, the release of PsO was quite well received by xRel users. There they even praise the currently strikingly frequent cooperation between the actual scene and P2P groups. Incidentally, the current Minions part has conquered the cinema charts in Germany and elsewhere. Like last week, you are at the top of the most visited films. And so in .de ahead of Jurassic World, Top Gun Maverick, Elvis, The Black Phone and many other blockbusters.
Tarnkappe.info