Rufus: Microsoft is blocking Windows ISO downloads
Microsoft blocks the download of Windows ISOs in the popular open source tool "Rufus". The developer is now asking the community for help
The well-known open source tool "Rufus" is widely used by many to create bootable media to create. This tool is particularly popular with Windows users for downloading Windows ISOs.
Unfortunately this is no longer possible. Microsoft now seems to have put a stop to these downloads. All Windows downloads originating from Rufus only show an error message.
Rufus: Create bootable USB flash drives in just a few clicks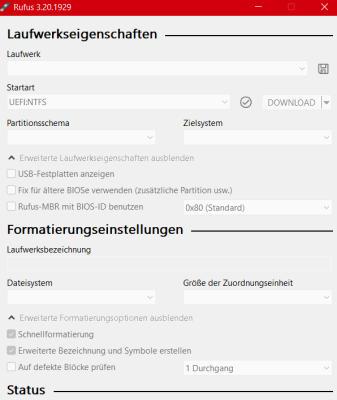 Rufus is one of these Tools that you no longer want to do without. Not only that this tool does not have to be installed, but comes as an executable file. No, the tool is also really clear and easy to use, almost self-explanatory.
With just a few clicks to a bootable USB stick? With Rufus, that's no problem. Simply enter the stick as a drive above, then select UEFI below and then either click on selection or on download.
Well, at least that's how it was until recently. Because now there is only an error message.
Microsoft prohibits the download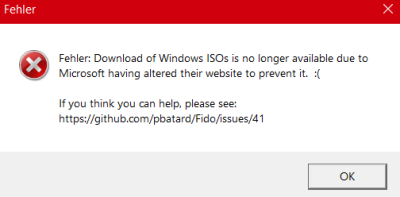 The error message is always the same: "Error: Windows ISOs can no longer be downloaded because Microsoft changed their website to do so has prevented a download
".

Anyone trying to install a version of Windows 8, 10 or 11 to download, so has bad cards. Only the download of Windows 7 still seems to work. Only Microsoft can probably answer why this is so. ghacks.net asked the software giant, but so far there has been no answer.

Meanwhile, more and more users are reporting the problem on GitHub. Developer pbatard confirms the problem and claims to have found out that Microsoft is intentionally blocking requests from Rufus.

At upon closer inspection, it appears that Microsoft intentionally designed its website to be hostile to our script requests.

pbatard

pbatard does not yet know how to solve the problem. But apparently it could be a while before we can use Rufus to pull our Windows ISOs as usual. Reason enough to ask the community for help.

Troubleshooting will probably take aaaaaaay, and I could really need help.

pbatard

Update 13..5779887 13.55 Watch

Apparently the bug was found quickly by the community. So fast that even the developer of Rufus is surprised.

Oh wow, so it was him referrer. Thanks for that!

I can indeed confirm that the patch works, so I applied it. And I will make sure that the updated version of the script is used by Rufus as soon as possible.

pbatard

Well, to be wrong is all too human. A software developer is no exception. We can only be happy that Rufus will continue to function without restrictions in the future.

Tarnkappe.info