Smartphones and sustainability – will that still work?
After smartphones quickly conquered the market, the desire for sustainability is now growing. But where is the problem?
Smartphones came quickly and suddenly. But with dwindling innovative power in this market, the topic of sustainability is becoming more and more important. However, it takes more than just recycled packaging to make the devices usable longer.
Smartphone durability as the most popular sustainability factor
Sustainability is a hot topic. And the manufacturers of smartphones know that too. More and more smartphone manufacturers are investing in ESG programs, recycling packaging, committing to zero emissions production and selling their products without chargers. The Western European market in particular is characterized by an outstanding awareness of sustainability.
In a newly published study, Canalys examined how great the interest of Western European consumers in used and refurbished smartphones is. It has been shown that the majority of those surveyed attach the greatest importance to the durability of the devices among all sustainability factors. A factor that is often neglected by device manufacturers. Permanently installed batteries and a sometimes very questionable update policy speak for themselves. But more on that later.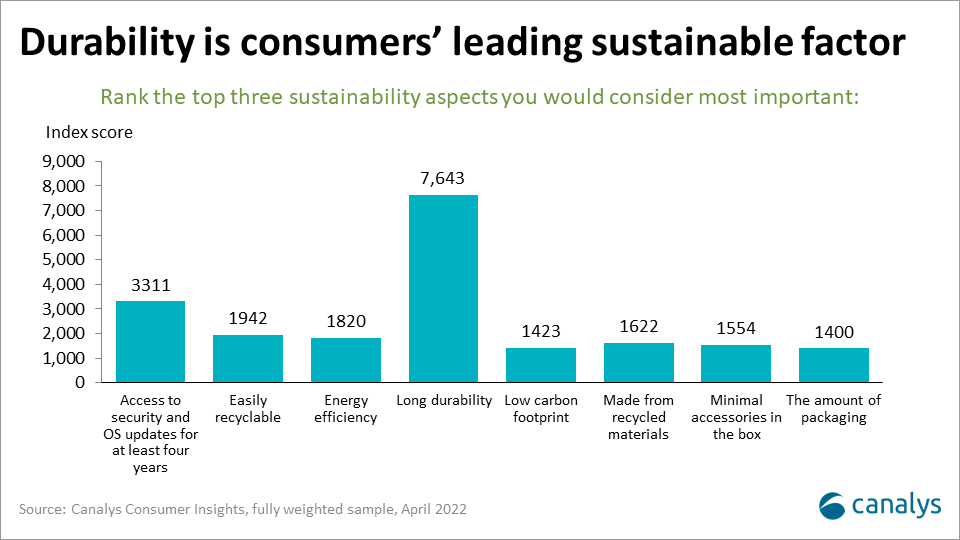 Younger users are more likely to buy used smartphones
Furthermore, 5% of those surveyed in this study showed interest a refurbished device. 10% said they were still willing to use a used smartphone.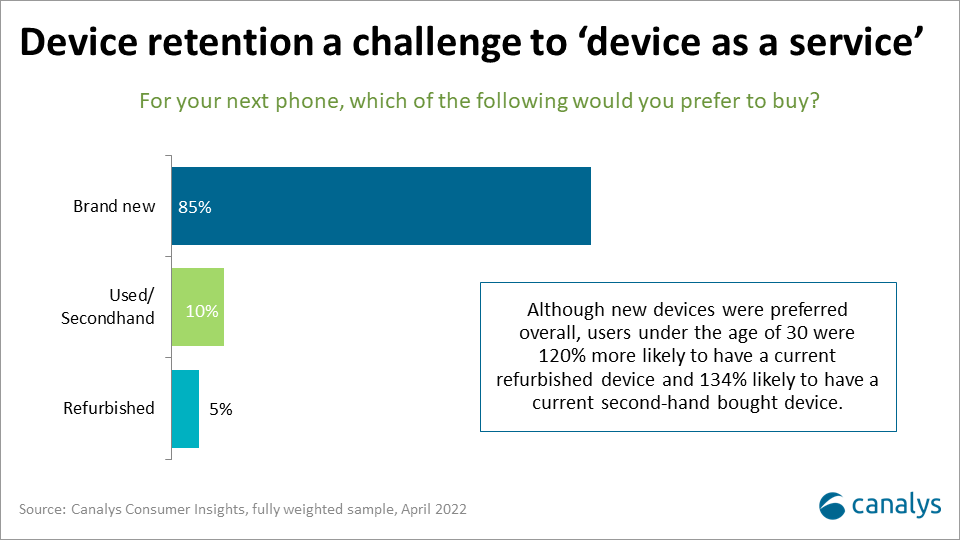 What initially seems small amounts to several million smartphones per year in the end. Especially since, according to Canalys, the interest in these devices has increased significantly, especially among users under 15 years. It is therefore to be expected that the rate will continue to rise as the younger generations get older.
To further parts of the remaining 30% of the market, however, it is also necessary to create further incentives. These can be, for example, financial advantages, more robust devices with a longer life expectancy and Device-as-a-Service-like subscription models.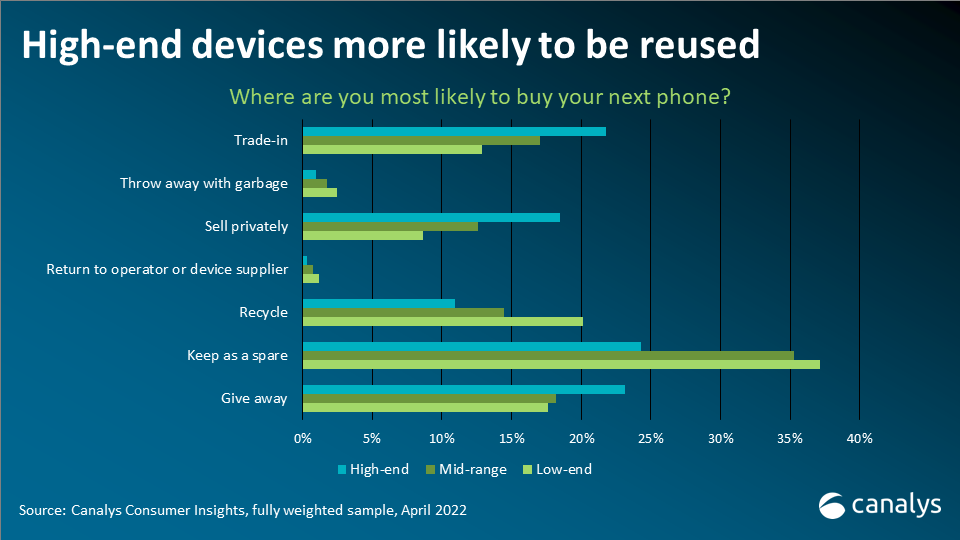 Old devices sell poorly, when they disappear in the drawer
In order for used and refurbished devices to be bought at all, there must be people who hand in their old devices. After all, the demand must ultimately be served. But as the Canalys study shows, many users keep their old smartphone as a replacement device. At least if you look at the entry-level and mid-range. This is probably due not least to the low resale value of these devices.
High-end models, on the other hand, are passed on much more frequently via trade-in or other means and are thus given a second life. Overall, the supply should exceed the demand for reusable devices. Effectively, there is often a surplus of used smartphones. However, these can still be effectively recycled by retailers if they cannot find a buyer.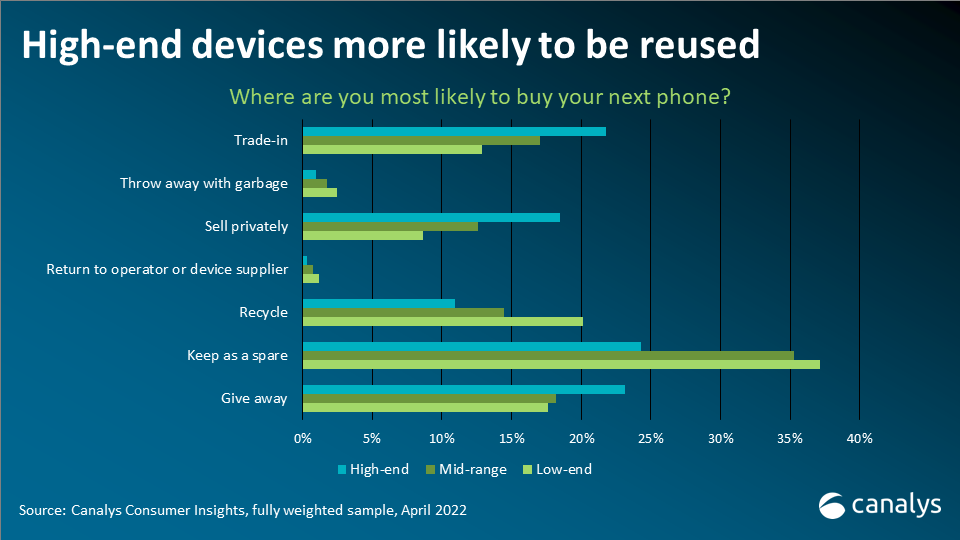 The software is often a bottleneck
The fact that sustainability is playing an increasingly important role in smartphones is probably also due to the price development of the devices. While just a few years ago you could buy a new high-end device for under 291€, today you can often buy 4-digit amounts called for this device class. In addition, innovation in this sector has lost speed.
A Samsung Galaxy S2 would have been almost unusable after 6 years from a technical point of view alone, since the built-in processor simply does not have the power for modern apps was missing and the low resolution of the display also became a major obstacle over time.
But a OnePlus 3, whose release date is now also more than 6 years in the past, was already equipped with a FullHD AMOLED screen and with its Snapdragon 820 and 6 GB RAM it still has enough power to use modern apps without major restrictions . But there remains a deficit: the software.
Regarding the hardware alone, used smartphones make more sense than ever. But it is all the more worthwhile to always take a look at the status of the software and to check how many updates can still be expected from the device manufacturer. Because sooner or later the software always becomes a bottleneck.
Update guarantee or not. 4-year update promises are a drop in the bucket considering that the hardware will continue to age more slowly in the future. And promised updates are by no means delivered updates, as the past has often shown.
The fact that manufacturers of technical devices are often not at all interested in designing them for a long service life was recently shown by the Company Epson, which had some of their printers prematurely quit the service, although they were technically still fully functional.
Your opinion is wanted
What do you think about this topic? Do you also see the software as the biggest hurdle, or are you more bothered by the permanently installed batteries?
And what experiences have you had with the update policy of your previous smartphones? Do you perhaps even take the issue into your own hands and rely on alternative operating systems such as LineageOS?
And what would you specifically wish for from smartphone manufacturers so that you use your smartphones longer and are also more willing fall back on used devices?
The editors look forward to your comments!
Tarnkappe.info