Sony Pictures is reporting itself for copyright infringement
Curious how Sony Pictures employs Google by reporting its own portals due to alleged copyright infringements.
The Indian offshoot of Sony Pictures is currently causing a few laughs on the internet. The DMCA takedown notice is actually a useful tool for rights holders to protect their works. But things take a sour turn when companies like Sony suddenly start reporting their own websites to Google for copyright infringement so they can no longer be found.
Every day, millions of DMCA takedown notices are sent to remove pirated content or to make it impossible to find it in the first place. Nevertheless, the capacities of the Digital Millennium Copyright Act (DMCA) are limited. And Sony is just one of many companies currently unnecessarily taxing the system by reporting their own websites.
Sony Pictures vs Sony Pictures (and IMDb)
Sony Pictures Network India requests Google's search engine to remove 34 URLs due to copyright infringement of to remove the SonyLIV platform. And this belongs, believe it or not, to Sony! More specifically, Sony Pictures Networks India Pvt. Ltd.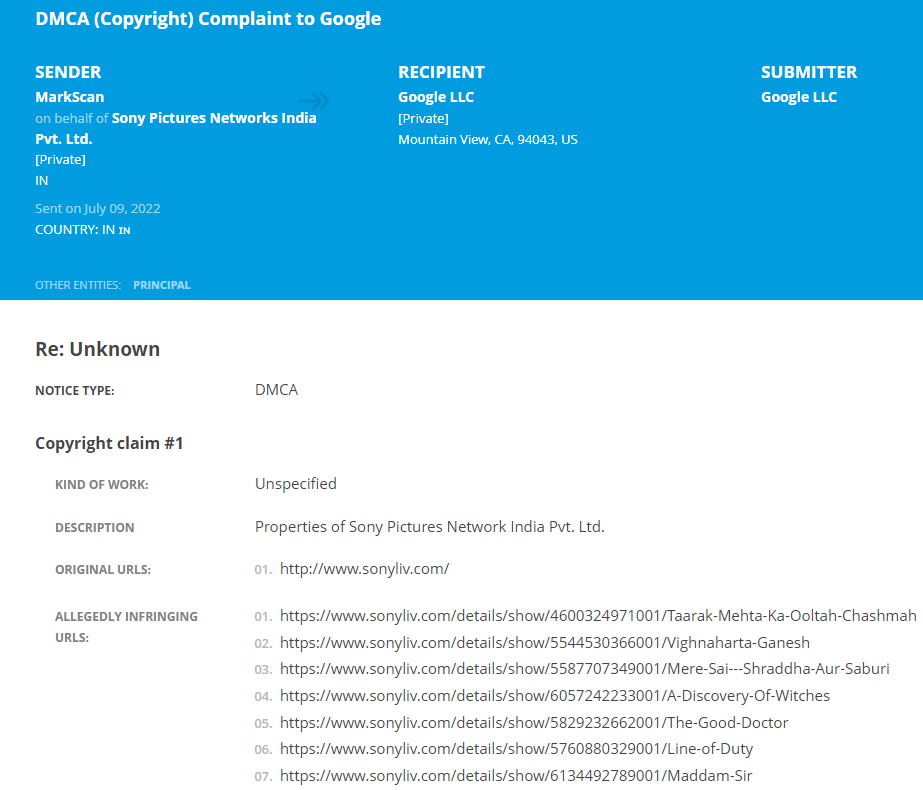 But there is a small consolation: Another of the URLs listed in total 34 refers to the IMDb.
The report was submitted by the anti-piracy unit Markscan. It contains links to some copyrighted movies and TV shows. There are legitimate doubts that these are really pirate copies.
Only the employees themselves know why Sony Pictures accuses itself of copyright infringement. But one thing is certain: reports of this kind are certainly not valid helping to help find and contain genuine pirated software.
Other companies are making the same mistake
Other rights holders have also reported the SonyLIV service for copyright infringement. Would you like some examples?
Multi Screen Media

Shopte Film sales
Aiplex Software

Aqua Holdings Investment
DFL German Football League,
to name a handful.
While most errors from Google recognized and the associated queries were rejected accordingly, two URLs were actually removed from the search engine.
But who believes that only Sony If you are looking for copyright infringement 923 in yourself, you should take a look at Warner Brothers or Walt Disney Pictures. Many other large companies seem to be doing something similar.
There have been false reports in the past in which scammers have illegally claimed to represent a rights holder. But in the case of Sony, there are no signs pointing to such a fraud.
Tarnkappe.info