Twitter wants to sue Elon Musk
Elon Musk announces he is stepping back from his deal with Twitter. The short message service reacts and threatens to sue Musk.
Elon Musk has decided not to take over Twitter anymore. Musk informed the company of his decision on Friday. The short message service from San Francisco reacted promptly and announced that it would sue Elon Musk in order to force the completion of his takeover bid if necessary.
Elon Musk: misleading information about spam or Fake Accounts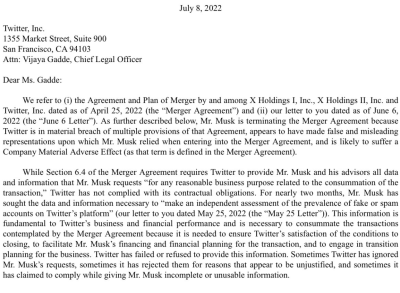 It should be known by now that Elon Musk is not an easy negotiating partner. Twitter has had to put up with many an accusation from Elon Musk in the past few weeks and months.
One of the main reasons for the not particularly surprising and definitive refusal of Twitter should therefore have been the allegations already made of false and misleading information about spam or fake accounts on Twitter.
As a reason, his lawyers referred to allegedly insufficient information on the number of fake accounts, as from a statement published on Friday the US Securities and Exchange Commission (SEC).

spiegel.de

Bret Taylor: "We are committed to completing the transaction on the terms agreed"

The Chairman of the short message service, Bret Taylor, however, is combative. Taylor announced that legal action would be taken to enforce the purchase.

We are committed to completing the transaction at the price and terms agreed with Mr. Musk and plan to take legal action to enforce the merger agreement.

We are confident that we will prevail in the Delaware Court of Chancery.

Bret Taylor

Twitter and Tesla stocks immediately fall in value

What is likely to follow is a long judicial "battle of the titans". And so it is hardly surprising that both Tesla and Twitter shares lost value again yesterday.

The well-known Wall Street analyst Dan Ives has his own opinion on this and approves the deal as "questionable from the start".

In his opinion, the stock market should be relieved about this end. Both sides have something to lose. And if Twitter now shows itself to be combative and wants to push through the deal at any price, it should be very difficult.

These The situation has weighed heavily on Tesla stock, and the stock market will be relieved that this dark chapter is closed for now. Next step – Game of Thrones – court battle between Musk and the Twitter executive

Dan Ives

An almost epic one and it will certainly be very expensive court dispute. But at least Twitter is talking about a whopping sum and an important deal.

Whatever the outcome of the epic "Game of Thrones court battle" between Musk and the Twitter board. Better an end with terror than terror without end.

Even if you end up only getting the release fee of one billion dollars. Anything is better than groping in the dark for months and having to dance to the tune of an eccentric billionaire.

Tarnkappe.info